Rural Oklahoma Rancher and Horsewoman Debra Coppinger Hill
writes what she knows best, Cowboys, Cowgirls, Horses, Cattle and the Rural
Western Lifestyle.


With a family rich in Cowboys and Cherokees, Debra's writings reflect true family history and stories, as well as stories about her friends and neighbors.

In addition to numerous other awards for her poetry and performing, Debra has been honored by the Academy of Western Artists with their Will Rogers Award. She also received the very first TR Stephenson Memorial Cowboy Poetry Award from the San Antonio Poetry Society. Her poetry also holds awards from the Southwest Nighthawks Storytellers Association and the Western Poets Circle.


RIDING DRAG

, Debra's weekly column
features stories about life at the family's brood mare and breeding operation the 4DH Ranch, Cowboy Poetry and happenings in the world of Cowboys and Cowgirls.

RIDING DRAG

is featured here at

ALWAYS COWBOY

.

Debra has performed on the
floor of the Oklahoma House of Representatives and was presented with a Citation by the State of Oklahoma for efforts in preserving Cowboy literature.

Debra has been published in dozens of books and in newspapers and publications around the world and in a multitude of places on the Web. Debra and her partners Robert Beene and Angela Wilkes teamed up to produce the book

ONCE A COWBOY

and are currently working on another compilation of their poetry and stories.

Debra has performed and taught Cowboy Poetry across North America and abroad. She is proud to have been invited to teach at the Gerard Manley Hopkins Summer School in Monasterevin, Ireland; where she worked with foreign students from around the world.

Debra also does motivational speaking on cancer survival. She is currently working on two books with one emphasizing taking responsibility for yourself and not allowing bad Doctors to push you into things you do not want to do in your treatment. In the other book Debra shares her own experiences with her cancers and the healing power she found in her horses.

Look below more information about Debra and how to contact her or to book Debra to perform, speak or teach at your event.

CONTACT DEBRA:

ridingdrag.info@gmail.com
ABOUT
OLD YELLOW SLICKER

OLD YELLOW SLICKER

OLD YELLOW SLICKER PRODUCTIONS
For Those Who Live the West and
Those Who Dream of Living It!
©Always Cowboy 2010 All Rights Reserved. No reproduction of the works on this site in any publication or media without the express written consent of site owner, author, artist or photographer. All individual copyright laws prevail for featured works. Site design by Wiener Dog. Photographic images ©Angela Wilkes-ABCPhotography.com, ©DLHill, ©DMHill unless otherwise noted.

---
---
DEBRA'S PAGES


ARE SPONSORED IN PART BY :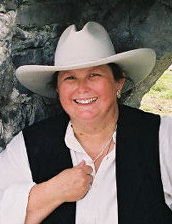 Attend Debra's
Cowboy Poetry Workshop
at the
TEXAS CROSSROADS COWBOY POETRY GATHERING!

Debra will be presenting a
Cowboy Poetry workshop
Feb. 5, 2010
in Van Horn, Texas,
during the
Texas Crossroads
Cowboy Poetry Gathering.

Go HERE for
more information on how to
reserve your seat in class.

~*~*~*~*~*~*~*~*~

Don't forget there will be a great Cowboy Poetry & Music going on
as top Cowboy Poets, Musicians & Western Vendors come from all across the nation to gather in
Van Horn, Texas.

Included in those performing will be members of Always Cowboy:
Teresa Burleson, David King
& Robert Beene!

TEXAS CROSSROADS COWBOY POETRY GATHERING!
Rancher ~ Poet ~ Columnist Storyteller ~ Songwriter
Motivational Speaker

Read Debra's Weekly Syndicated Western Humor and Cowboy Poetry Column 'RIDING DRAG'

PRESERVING THE SPIRIT OF THE WEST THROUGH
COWBOY POETRY & MUSIC,
FINE & PRACTICAL WESTERN ARTS & CRAFTS,
INSPIRATIONAL SPEAKING,
WESTERN ENTERTAINMENT & EDUCATION.
OLD YELLOW SLICKER

She wears his yellow slicker,
though it almost drags the ground,
It seems to make things easier,
as if He is still around.

He's left her some big boots,
she's gonna' have to fill,
But his old yellow slicker,
seems to give her the Will.

The Will to keep on going,
the Will to be strong,
The Will to make their dreams come true.
and remember where she belongs.

She wears it to feed the cattle,
and when she cleans the stalls,
She hangs it on that high nail by the door,
and remembers He was tall.

She wears it every time,
storm clouds came rushing in,
She even wears it sometimes,
just so the tears will not begin.

She wears it to keep the wet out,
and to hold the cold at bay,
It eases the hardness of the ground,
each time she kneels to pray.

She wears it to chop the tanks,
and when she mends the fence,
She wears it on the best of days,
and on the ones that make no sense.

She wears it though it's ragged,
and has completely lost its charm,
Because, if she is inside of it,
she's back inside his arms.

It's just an old yellow slicker,
but it makes her life complete,
It reminds her what's important,
and it keeps her on her feet.

She's worn it across a life-time,
and she's never felt alone,
She's raised their cows, raised their kids,
and she's made their farm a home.

When she's gone, she tells the kids,
just hang it on that nail in the barn,
And when you look at it, your hearts will know,
yellow slicker saved the farm.


©Debra Coppinger Hill
* Debra's signature piece is Dedicated with Love to Mrs. Oleta Nichols, A True Texas Lady.
It has been recorded by Jean Prescott with music by Kevin Davis.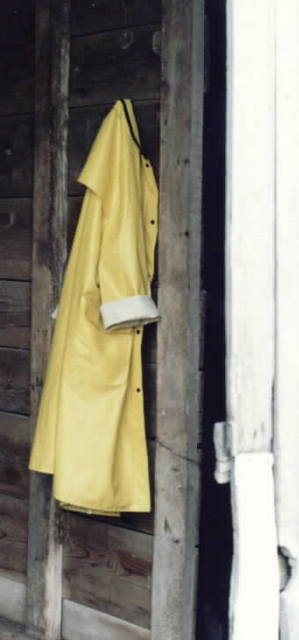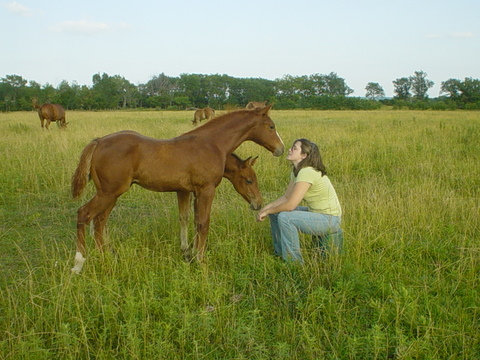 Debra's Poetry

*Page 1
Old Yellow Slicker
THIS PAGE IS CURRENTLY UNDER CONSTRUCTION!
PLEASE CHECK BACK SOON!

ONE QUESTION



A cowgirl's work is never done,
Endless chores keep her
on the run,
Before the dawn,
past the set of sun,
With no rest around the bend.
She never questions
ranch life's flow,
Or all the tasks that keep her
on the go.
But there's one thing
she wants to know,
"Hey -- what's a weekend?"




-- Debra Coppinger Hill




(This appeared in USA Weekend in 2003 in an article on Cowgirl Poets by Kathleen Conroy. Debra was one of three Cowgirl Poets chosen to be featured in this article.)

Daughter of the 4DH with her AQHA colts
Two Sugs Please and Sugalump.

COMMON SENSE, MEN and HORSES
"This tribute is actually a compilation of all my Grandfathers and Great-Grandfathers. I pulled all of their traits together into this one piece, because it seemed to make more sense that way. They all had common traits and habits. I suppose all great men are like that: compassionate, wise and strong.

Common Sense, Men and Horses combines all the guidance and wisdom each of them passed on to me. The things they taught me, each memory and each moment, is their gift of life well-lived to me. I attribute my own love of horses and the men who train and do it well, to them. To this day I measure all men by their standard and image.

I admire them, I respect them, and I love and miss them; those Cowboys, one and all, whose lessons stand the test of time."

~ DCHill ~
You see, the decisions that we make
should be rooted in our common sense.
Like horses, we should use our instincts,
or be prepared to accept the consequence.

For no matter what we do in life,
no matter where we roam,
We all are part of a family herd,
and we can always come home.

So we watched 'em work for hours,
as I hung on every word he had to say;
About life and love and horses;
how God hears us when we pray.

I simply took it for granted
that he would always be,
Sitting on that fence rail,
talking and laughing with me.

Time makes changes as it passes by;
I grew up and followed my star.
But in times of trouble I'd hear his voice,
saying "Remember whose child you are."

He taught me to read the world
though I didn't know it at the time.
I learned about strength and self-respect;
how to recognize the best in mankind.

Oh, I made mistakes, but have no regrets,
for each is valuable in its own way.
Combined with his words and an education,
they are a part of who I am today.

And nothing ever really gets me down,
because of these things I can be sure;
That home is where the heart is,
and that love will forever endure.

So I honor this Cowboy philosopher,
who taught me to follow my heart's voice;
To see things exactly for what they are
and that happiness is a choice.

I've come to realize all those things I learned,
from books and college courses,
Will never hold a candle to his lesson,
on common sense, and men and horses.



© Debra Coppinger Hill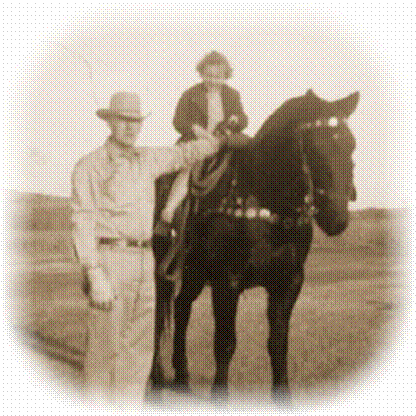 COMMON SENSE, MEN and HORSES
We perched atop the corral,
as he read the men and horses,
And he told me about common sense
and it's amazing, magical forces.

We watched the men choose their mounts,
some were firm, but kind;
While others used plain brute force,
to make their horses mind.

He said, "Dealing with horses and people
is a special kind of art.
If you watch 'em work, you will learn
what is truly in a man's heart.

For though it once was common place,
common sense ain't common any more
And many of the basic rules of life,
some folks will choose to ignore.

The bad ones will make excuses,
tell you the Old Cowboy ways have died.
But anyone with common sense
will know that's a lie.

The truth is just as obvious
as these fellows working the pens.
There will always be Cowboys
as long as there are horses and men.

And just as it takes all kinds of horses,
from renegades to leaders to make a herd;
There will also always be outlaws
as well as men true to their word.

You see, a man who can't,
will often bully his way through,
And how a man treats his horse
is how he'll end up treating you.

But the man who can, simply will,
he won't have to prove a thing.
He'll have the courage and the sand
to face whatever life brings.

He never will desert you,
even in the darkest hour
and he'll have the sense to know
when to turn to a Higher Power.

The phrase, "a soft hand with horses,"
applies to human beings too,
A man who is one with his horse
will likewise be one with you.



Seen in a family photo is Debra's Great Grand-Daddy Ed who worked on the King Ranch as a young mand and her Mother Gayle on his horse 'Ranger'.
"The days all run together
but I can't really say I mind,
For my time among the horses
is the most peaceful that I find."

From "A Long Day", by Debra Coppinger Hill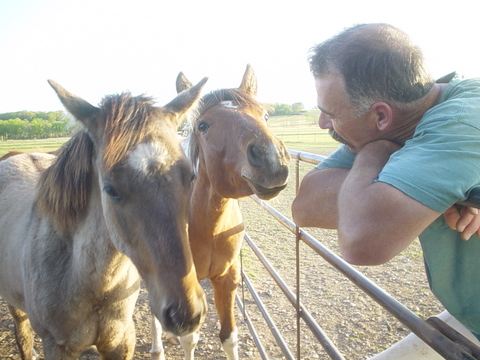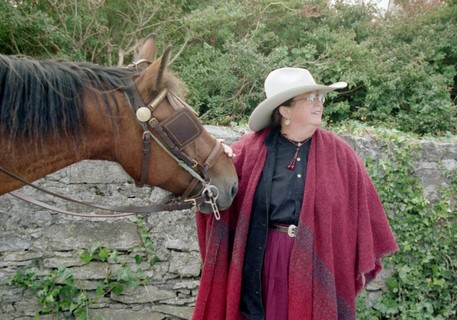 ---
---
I remember the next few moments,
forever, they are etched into my mind,
And the emotion I felt, as we sat in silence,
never again, shall I find.

We watched them bolt from the gate,
running for all they were worth,
All four feet up off the ground,
Flying, between Heaven and Earth.

The explanation that he gave,
he didn't have to give.
But, his words ring in my memory,
all the days I live.

He said, " I let them go sometimes,
so I can remember, when I see,
What it's like to break loose,
and truly, be Free.

For awhile I'm allowed, by Grace of God,
to be a part of wondrous, unseen forces...
And that, my fine young friend,
is why I keep wild horses."




©Debra Coppinger Hill



---
---
Mustangs
Eagles in the Trees
Echoes of the Canyon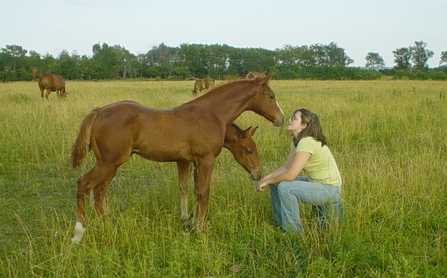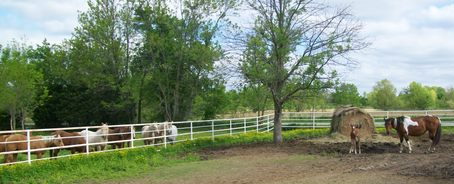 ---

SWAPPING SPIRITS



She said "I can't explain it,
there are no words of course,
For that moment when you're training,
when you truly connect with the horse.

Everything comes together,
it sets your soul to reeling,
You either 'get it' or you don't,
it's an indescribable feeling.

So, call it Swapping Spirits,
because nothing can compare,
To when you are the horse and the horse is you,
and you're breathing the same air.

©Debra Coppinger Hill
~*~ 4DH RANCH ~*~


OKLAHOMA
Cutting & Ranch Work Bred Horses.
4dhranch.com
The "Aunties" coming up to visit the new baby.
" I walk out across the pasture and lose myself among the horses. Weaving back and forth among them, standing with them and leaning against them I become a part of the herd. There, as my heart beats with their's, my spirit is healed and I am made whole."
*Debra Coppinger Hill from her upcoming book 'Rancher's Rhapsody'.
WELCOME TO
OLD YELLOW SLICKER PRODUCTIONS