Robert was born and raised in Oklahoma. He began riding bulls in rodeos at the age of sixteen and continued to ride for the next seventeen years. He refers to himself as a "Semi-professional bull faller-offer". He worked on ranches in Oklahoma and Nebraska before starting his career as a Farrier, an occupation he continues today. As a Farrier he travels to various parts of the state to ranches where he takes care of keeping their horses shod and cared for. To reach Robert contact him at: cowpokeproductions@yahoo.com Robert also holds a degree in Biology from Southeastern State University.

Robert's cowboy poetry and songs are inspired by his life's events and those of friends he has met along the way. He performs at various cowboy poetry gatherings, rodeos, weddings, private parties and similar events. As an author, he co-wrote the book

Once A Cowboy…

with friend Debra Coppinger Hill. They are currently compiling a second book of their poems, columns and stories and Robert is working on a book of short stories.

Robert and his Oklahoma Cowboy Poet Friends performed Cowboy Poetry on the floor of the House of Representatives of the State of Oklahoma and received Citations from the State for their efforts in preserving this form of literature.

Robert is published in The Christian Ranchman, and American Western Magazine and in various places in the Web. He is a Resident Poet/Singer here at Always Cowboy. His songs and poetry have been recorded by himself and various Western singers and are heard on radio stations throughout the United States and Australia. Robert's CD Cowboyology, contains all original work and holds nominations from the AWA. His poetry appears in the AWA's Cowboy Poetry Book of the Year, The Big Roundup; which won the Will Roger's Medallion Award and Buck Ramsey Award. It is a collaboration of the world's top cowboy poets and their poems.


ABOUT
ROBERT BEENE
COWBOY SINGER / POET


ROBERT BEENE
For Those Who Live the West and
Those Who Dream of Living It!
©Always Cowboy 2010 All Rights Reserved. No reproduction of the works on this site in any publication or media without the express written consent of site owner, author, artist or photographer. All individual copyright laws prevail for featured works. Site design by Wiener Dog. Photographic images ©Angela Wilkes-ABCPhotography.com, ©DLHill, ©DMHill unless otherwise noted.

---
ROBERT'S PAGES


ARE SPONSORED IN PART BY :
Robert Beene
will be performing at


~*~*~*~*~*~*~*~*~

Farrier ~ Cowboy
Poet
Singer ~ Songwriter

~*~*~*~

"I don't know why anyone would want to be a Cowboy;
but I don't understand anyone who wouldn't."

Robert Beene



A Leather Bound Hero



He was a cowboy all of his life
and he could remember the days of the drive.
He was thirteen years old when he took his first job
wranglin' for Goodnight on a long dusty drive.

He rode into history though few knew his name.
A leather bound hero not lookin' for fame.
He lived in the time before the land grew tame
He saddles his pony and rides the range.

He lived through the days on the range 'neath the stars
and in to the age of fences and cars.
Though cowboyin' changed he tried to hold on,
to the old days and old ways he knew soon would be gone

He rode into history though few knew his name.
A leather bound hero not lookin' for fame.
He lived in the time before the land grew tame.
He'd saddle his pony, another day on the range

He told me one time that he didn't belong
in a world with no freedom, how'd it all go so wrong;
With asphalt and fences they cut up the range
And brought a way of life that to him was so strange.

Then he rode into history though few knew his name.
A leather bound hero not lookin' for fame.
He lived past his time, the land has grown tame.
We unsaddled his pony, it's the end of the game.



© Robert Beene
Robert's Poetry

*Page 1

*A Leather Bound Hero
* You Just Never Know
*Mechanized Ranches
*Cowboyology
*How Long Will the
Cowboy Last
*When the Glory's
All Gone


COWBOY POETRY BY ROBERT BEENE
Now Bay weren't bad to buck,
but the kid got him confused;
He pulled both reins and kicked him;
Bay figured he's bein' abused.
He finally slacked up on the reins
and ole bay took off on a run,
And jumped clean out from under him,
he hit the ground like a ton.

He weren't really hurt,
'cept maybe his pride,
But he just sat there cryin'
like he's about to die.
He finally got to his feet
And he's sure fightin' mad,
"You done that on purpose,
you knew that horse was bad."

I walked to ole Bay,
picked the reins up off the ground,
Stepped into the saddle
and started ridin him around.
We loped over to the kid
and I stepped out of the kack;
Then handed the reins to him,
he looks at 'em an hands 'em back.

A man that can't ride ain't much good,
but the boss said "don't give up yet",
So we put him on the ground crew,
but weren't nobody taken bets.
We were draggin' 'em to the fire;
brandin', vaccinatin' and such;
Even when not tangled in the ropes
he still wasn't worth very much.

He couldn't throw a calf,
they kept slippin' through his hands;
Then the boss hollered out
see if he can set a brand.
So we headed for the fire
when I stops to light a smoke,
Then heard him screech and holler
I looked and thought, 'what a dope!'

Now an iron's got two ends,
one to hold, and one not.
I know it's hard to believe
but he picked the end that's hot
The boys all come a runnin',
but the burn weren't all that bad;
Then he looks over at the boss
and says "I gave it all I had."

"This job ain't what I thought
ya'll know I'm way too smart,
To be here punchin cows,
just isn't in my heart."
So he headed for his car,
lookin' down his nose at us;
Like we were nothin' better
than a little speck of dust.

When I hollered out
he stopped dead in his tracks,
He knew what I said
was surely based in facts.
"Son, you may be plenty smart
with all that high-dollar knowledge
But you failed Cowboyology
at a Working Cowboy's College."



©Robert Beene
He's looking for a ridin job
that's what this young kid said.
He'd studied Agriculture
and I'm sure, he's well read.
Said he'd watched "Lonesome Dove"
in a dorm room with his buddies;
They had made it a party
but didn't neglect their studies

He just stood there smilin'
under that dime-store hat;
With a wad of Copenhagen
makin' his lip look fat.
Said he'd been to a rodeo
and didn't think it rough.
He knew it was staged
and wasn't all that tough

Now I know better
but I've got a few rules,
And one of them is
never argue with a fool.
Said he had a degree
it's hangin' on his wall,
And he just knew cowboyin
would surely be a ball.

Well, just to shut him up
I took him to see the boss,
And nearly hit the ground
when he cut him out a hoss.

If that weren't bad enough
the boss looked at me and grinned;
"I guess it'd be okay
if you ride with your new friend"
I dang near drew my pay.
there's other range to ride
And draggin' yearlings to the fire
a man can lose some hide.

The boss knew I was mad
but he sat and rolled a smoke;
"I know what's on your mind,
you think this is all a joke"
"You think this kid's a waste
and it might be that your right,
But before you write him off
let's see if he's got some fight."

So we caught up the little bay
he borrowed a saddle, of course,
And we all gathered round to see
if this kid could ride a horse
As we saddled up the pony,
his mouth it didn't stop;
I could tell by the way he talked
he thought I was dumb as a rock.

He was tryin to impress us
with all the things he knew;
I just smiled, drew up the cinch
and said, "this pony's for you".
Well I held the horse's head
as he climbed up in the saddle;
Looked like a man headed upstream
in a boat without a paddle.


When the Glory's All Gone



He dreams of the days when he was alive,
As he drives through the city to his nine-to-five.
He remembers the circuit he followed for years;
The bad bulls he rode, the laughter and tears.

He recalls the women, although not by name.
Their faces have faded, just part of the game.
It wasn't the women or the money he made;
He loved ridin' bulls, but the memories fade.

They've lost track of him now, since he's not on the road;
But 'round the pens they still talk 'bout bulls that he rode.
The guys at the factory just don't want to hear,
About freedom and friends, the bulls or the cheers.

They don't understand, he knows they never will.
But he's been there, and man it sure is a thrill.
When you step off a bull and the crowd's on their feet,
It's some kind of feelin' that's sure tough to beat.

The smell of the pens, the sweat on your brow;
You pull off your hat and wave to the crowd.
It don't last long, eight seconds is all;
And when it's all over, it's a mighty long fall.

So he dreams of the days when he was alive,
And they can't take that away at his nine-to five.



Robert Beene
HAT LASSO

IS PROUD TO SPONSOR
COWBOY POETRY at
ALWAYS COWBOY

"Whether on the run or on the go,
Protect your hat with a Hat Lasso!"
Get yours at

HAT LASSO & COWBOY COOP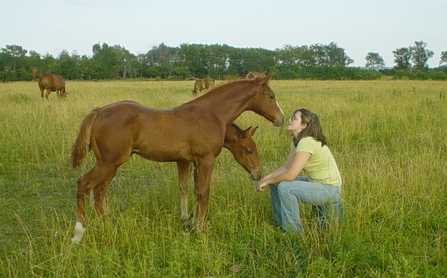 You Just Never Know
"Don't laugh at him kid,"
Old Jim said to me,
"You just never know
what's there, that you can't see."

We were low on feed
and had come in to town,
When I saw this city feller
'bout half a block down.
An insurance salesman
dressed in boots and hat
He hadn't the look of a puncher
and was leanin' towards fat.

Then he saw me and Jim,
we're cowboy sure enough,
This city feller waved
and started for our truck.
I noticed a limp
as he headed our way
and a face that had seen
a lot of sun in its day.

Well they started talkin'
'bout things from the past
'Bout good horses and friends,
and how time went too fast.
I learned this feller
had cowboy'd for years
And as a bronc twister
he'd never shown fear.

He'd been an honest puncher
back when he rode for pay;
I wondered what he wouldn't give
for just one more day?


My respect he had gained
before he shook my hand,
Then gimped back to his office
leavin' me a better man.
My respect he had gained
As we drove back to the ranch
Jim told me the tale
Of his friend's misfortune
that took him off the trail.

"It was just dumb luck
It could happen to you or me"
His horse slipped, went down in the rocks
and shattered his friend's knee.
That busted knee had ended
that old Cowboy's career;
Since I first heard that story
it's been about fifteen years.

But truer words were never spoke

than the ones Jim said to me,
"You just never know
what's there, that you can't see."
©Robert Beene
Cutting & Ranch Work Bred Horses.
4dhranch.com
How Long Will the Cowboy Last


Who will I be ten thousand years from now,
If someone digs up what's left
of this man who worked cows?

Will they think I'm a soldier or fighter of some kind,
From the scars of the countless
broken bones I'll leave behind?

Will they know I'm a puncher, who spent my life on the range?
Will they know what a Cowboy is?
Is the world due so much change?

I guess it don't matter, for I know what I am today;
But will my descendants know
what a cowboy is in their day?

So when I die, place me in the ground.
Don't worry 'bout flowers
or friends gathered round.

Wrap me in a blanket, spurs on my booted feet,
a book by Will James,
and my rope rolled up neat.

Send me to meet the Lord with the tools of my trade.
I sure hope I'll need them
in the Heaven He's made.

If this world lasts long enough and the Cowboy way is lost,
Maybe when they dig me up
they'll remember what progress cost.

Robert Beene
Mechanized Ranches

He said that cowboyn' was a thing of the past,
That modern techniques were just as fast.

Less stress on the cattle or that's what he thought;
But I don't see a squeeze chute as an easy way to get caught.

He's moved a hundred head a mile or even more,
To doctor one calf that was getting' poor.

I tried to explain that a rope was so much fitter;
I'd slip in, rope him easy like and doctor that poor critter.

"Naw, that's too much stress. We'll take'm to the pens."
So we point' for the squeeze chute and pushed 'em all in.

Now all this modern stuff has surely raised a fuss;
But some of it, I must agree, has helped a lot of us.

Ivomec was sent from God, of this I have no doubt.
And the cowman will agree, it's helped to win the bout.

Though they teach in Ag., the use of this mechanical rack;
It never willl replace the Cowboy, his rope and his kack.




©Robert Beene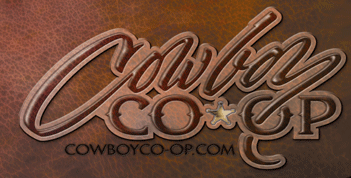 GOD
BLESS
THE USA!
COMING SOON!
MORE COWBOY POETRY & MUSIC CLIPS
by ROBERT BEENE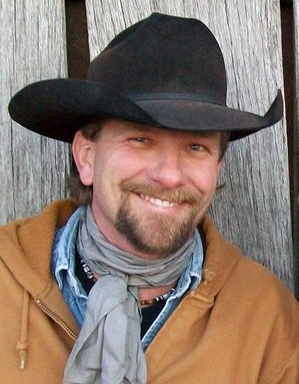 Robert is a proud member of Cowboys for Christ and Academy of Western Artists. He was nominated for AWA's Rising Star, Male Cowboy Poet, and Cowboy Poetry Tape/CD awards. Robert volunteers at local schools teaching children about Western heritage and promoting cowboy poetry to today's youth. He and Debra Hill head the Cowboys for Western Literature in the Libraries Project which helps small rural libraries, schools and universities to acquire collections of Cowboy Poetry. He is a founding member of Always Cowboy whose members volunteer time to perform at schools, retirement homes and libraries.

Robert and his associates are happy to help groups and individuals produce a Western Event. They can tailor a show to fit any budget, from a one man show to a full festival. Through Cowpoke Productions Robert has produced several Western & Cowboy Gatherings. He is one of the founders of the Western Oklahoma Cowboy Poetry Gathering in Red Rock Canyon. He has hosted such Cowboy Stars as Michael Martin Murphey, Debra Coppinger Hill, Tom Hanshew and Gina DeLaune, Fred Hargrove and Tim Graham.

CONTACT ROBERT:

alwayscowboy.info@gmail.com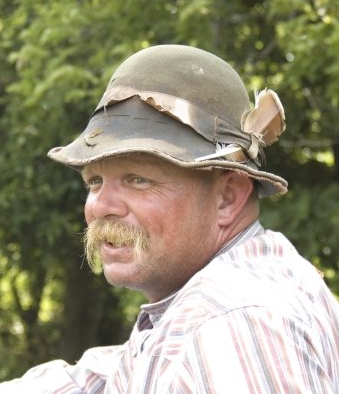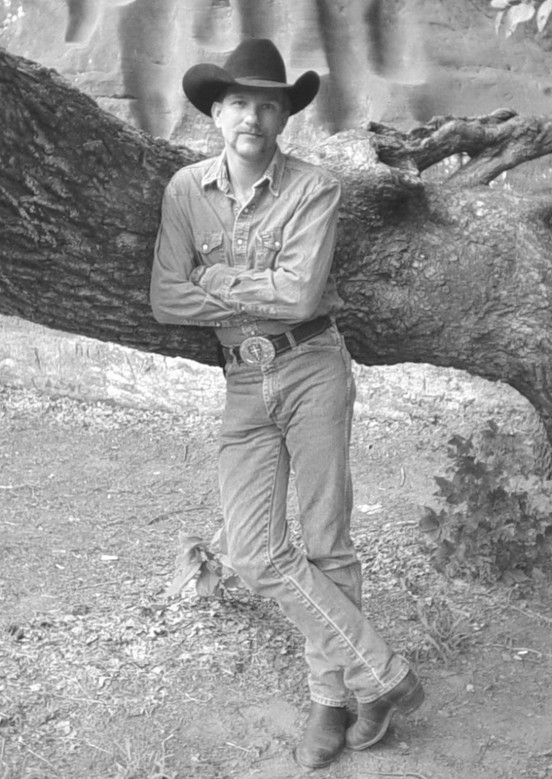 GOD
BLESS
AMERICA!